Sun xVM VirtualBox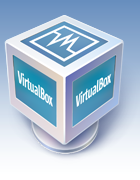 VirtualBox is an absolutely free desktop virtualization product for x86 platform. It supports both 32bit and 64bit architectures. The current version is 2.1.0, bringing experimental OpenGL support and 64-bit guest VMs running on 32-bit host operating systems.
VirtualBox product is completely free to download and use, but can be professionally supported in your enterprise environment for a small fee.
VirtualBox is part of the xVM Virtualization suite presented by Sun Microsystems in September 2008.
VirtualBox features
VirtualBox supports a standard set of features, including the following:
Unique design – modular and lightweight
All VM configuration is stored in XML files
Solaris, Windows and Linux are supported as both host and guest OSes, Mac OS X is supported as host OS.
Performance: Guest software to optimize the guest VM performance for Linux and Windows
Full hardware virtualization (iVT and AMD-V) support
Networking: Flexible virtual networking (you can even to PXE boot over NAT)
Storage: SATA support
Storage: you can use VMware-created disk images (VMDK files)
Shared folders – seamlessly transfer files between host OS and guest VMs
Current version:2.0
More information on VirtualBox