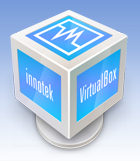 Sun Microsystems has just announced the agreement to acquire innotek, a Germany-based provider of an open source desktop virtualization software called VirtualBox.
Many of you are already familiar with both Sun xVM and VirtualBox, and I agree it does look like these are very similar and competing solutions, but there are a few differences which ensure that xVM and VirtualBox will only compliment each other in your environment:
Sun xVM Server and VirtualBox are different types of hypervisors: Sun xVM is a bare-metal, kernel-level hypervisor, which runs directly on the hardware. VirtualBox hypervisor is an application that installs on top of an existing OS.
Sun xVM Server is a datacentre-targeted solution for server virtualization and consolidation. VirtualBox is a lightweight desktop virtualization solution.
Sun xVM Server suppors VM migration and predictive self-healing .VirtualBox doesn't have these features, but provides rapid deployment capabilities due to its tiny footprint.
See also: