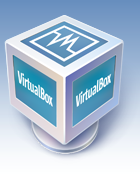 Last week, Sun Microsystems has released the next major update for its recently acquired VirtualBox product – Sun xVM VirtualBox 1.6.
What is Sun xVM VirtualBox?
VirtualBox is an absolutely free virtualization product for x86 platform. It supports both 32bit and 64bit architectures and can be used in both server and desktop virtualization.
VirtualBox supports a standard set of features, including the following:
Unique design – modular and lightweight
All VM configuration is stored in XML files
Solaris, Windows and Linux are supported as both host and guest OSes, Mac OS X is supported as host OS.
Performance: Guest software to optimize the guest VM performance for Linux and Windows
Networking: Flexible virtual networking (you can even to PXE boot over NAT)
Storage: SATA support
Storage: you can use VMware-created disk images (VMDK files)
Shared folders – seamlessly transfer files between host OS and guest VMs
What's new in VirtualBox 1.6
Obviously, you'll notice that VirtualBox now looks like a Sun product – colors have gone through subtle changes which reflect Sun's elements of design.
Feature-wise, here's what's new in this major update:
Solaris and Mac OS X host support
Seamless windowing for Linux and Solaris guests
Guest Additions for Solaris
A webservice API
SATA hard disk (AHCI) controller
Experimental Physical Address Extension (PAE) support
Apart from this, I really like many other improvements:
VMM: reduced host CPU load of idle guests
VMM: many fixes for VT-x/SVM hardware-supported virtualization
USB: fixed problems with USB 2.0 devices
NAT: improved builtin DHCP server (implemented DHCPNAK response)
NAT: port forwarding stopped when restoring the VM from a saved state
NAT: make subnet configurable
Storage: better write optimization, prevent images from growing unnecessarily.
Shared Folders: many bugfixes to improve stability (I'd love to see it fixed cause it was unusable in 1.5 on my 64-bit Ubuntu Gutsy)
Linux additions: several fixes, experimental support for RandR 1.2
Linux additions: compatibility fixes with Linux 2.6.25
For a full changelog, please visit the VirtualBox changelog link below.
I've already downloaded it and will definitely give it a try on my home PC. One thing I'm really interested in is double-checking whether there's any tweaking to get VMware Server 2b2 and VirtualBox co-exist in the same Ubuntu Hardy environment.
See also: