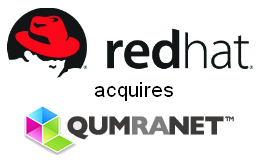 One of the highlights of the past week is the acquisiton of Qumranet by RedHat. Qumranet, the author and main developer of KVM (Kernel-based Virtual Machine), will join RedHat with both desktop and server virtualization products.
RedHat pronounces KVM the next gen virtualization
In what's described as the evolution of virtualization, RedHat changed the mind in favour of KVM and confirmed  the plans to use KVM as a primary virtualization solution in the future. This doesn't mean any change of plans for RHEL5 though, where Xen is still being used. In fact, Xen is promised to be supported in RedHat environment at least until 2014.
Apart from maintaining the only virtualization solution fully integrated with Linux kernel – KVM, Qumranet has also a very strong desktop virtualization offering based on it's on SPICE protocol which I've briefly spoken about a while ago in my Solid ICE article.
Qumranet's Solid ICE
From RedHat's official announcement:
Qumranet also developed SolidICE, a high-performance, scalable, desktop virtualization solution built specifically for virtual desktops, not simply a retrofit from server virtualization solutions. SolidICE is designed to enable a user's Windows or Linux desktop to run in a virtual machine that is hosted on a central server. It is based on the industry-leading Simple Protocol for Independent Computing Environments (SPICE) protocol, which overcomes key barriers to VDI adoption, including a superior user experience enabled by the SPICE protocol capabilities. SolidICE offers superiority over competition in three aspects:

A user experience indistinguishable from a physical PC (Windows and Linux desktops) via the SPICE remote rendering technology
3-5x cost-performance improvement over retrofitted server virtualization solutions
Scalable, purpose-built management
More on RedHat/Qumranet: